Lunch cards
You can pay with Edenred card on Wolt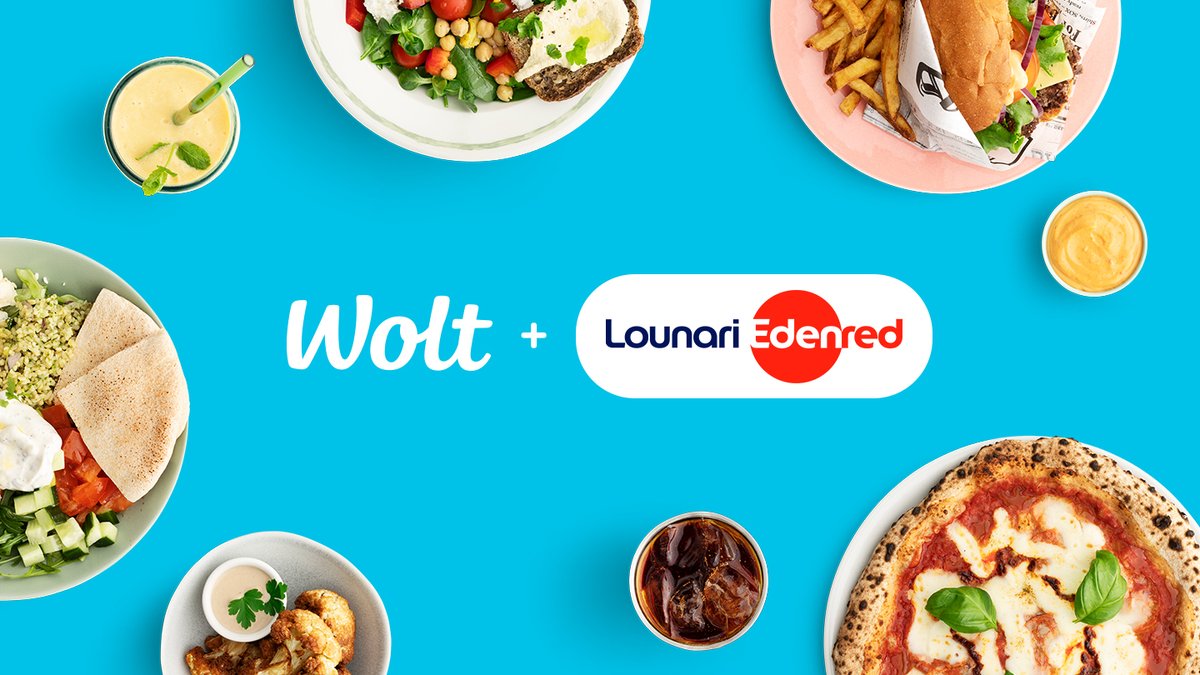 Published:
January 14, 2022
You can pay your Wolt orders with Edenred lunch card!
For now, Edenred only works on orders made through wolt.com. This means you can't use the app when paying with Edenred. However, if the total price of the order is max. 11,30 € (as is sometimes the case in orders you pick up yourself) you can pay the order with Edenred in the Wolt app. You can find detailed instructions on how to use the benefit by scrolling down.
How to pay with Edenred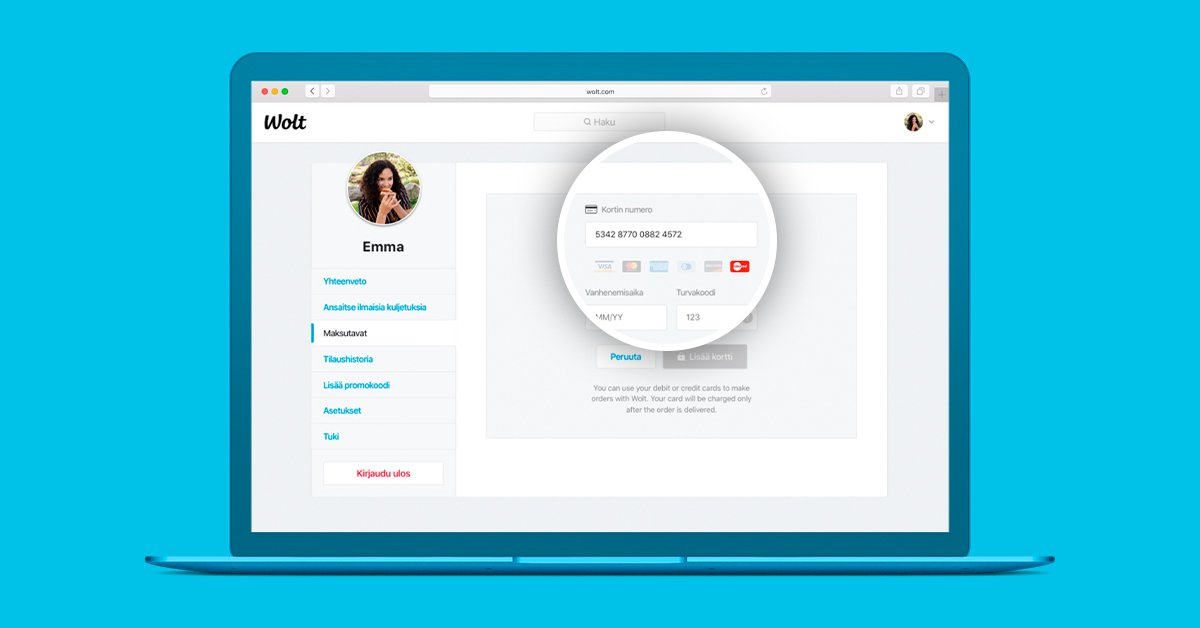 Add Edenred as a payment method
You can add your Edenred card as a payment method by choosing "Payment methods" and "Add new card" in your Wolt profile. As Edenred lunch benefit can't be used for purchasing Wolt credits, it's good to also add another payment method which you can use for your credit purchases. You can pay up to 11,30 € with Edenred and the remaining amount is paid with Wolt credits.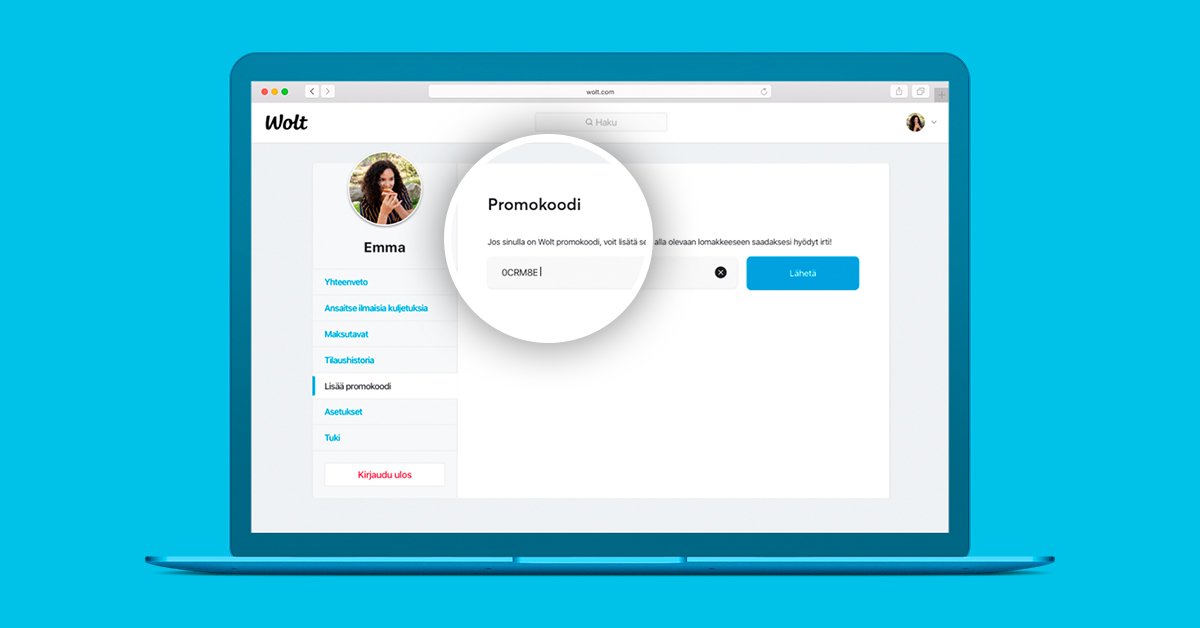 Add credits on your Wolt account
The minimum order amount in delivery orders is 10 €, + delivery fee. You can pay up to 11,30 € with Edenred and the remaining amount can be paid with Wolt credits. When making takeaway orders you don't necessarily need credits if the total price of your order is 11,30 € or less.
You can purchase credits from Wolt's gift card shop. Please note that Edenred card can't be used to purchase credits so you need another payment method for this. After you've made the credit purchase, you'll receive a PDF including a code in your email. Insert the code through the "Enter promocode" section in your Wolt profile and the credits will be added to your account. The credits are valid for a year after the code has been inserted so we recommend purchasing more credits at once. After the credits have been added to your account, you can use your Edenred card and credits as a combined payment method when making orders on Wolt.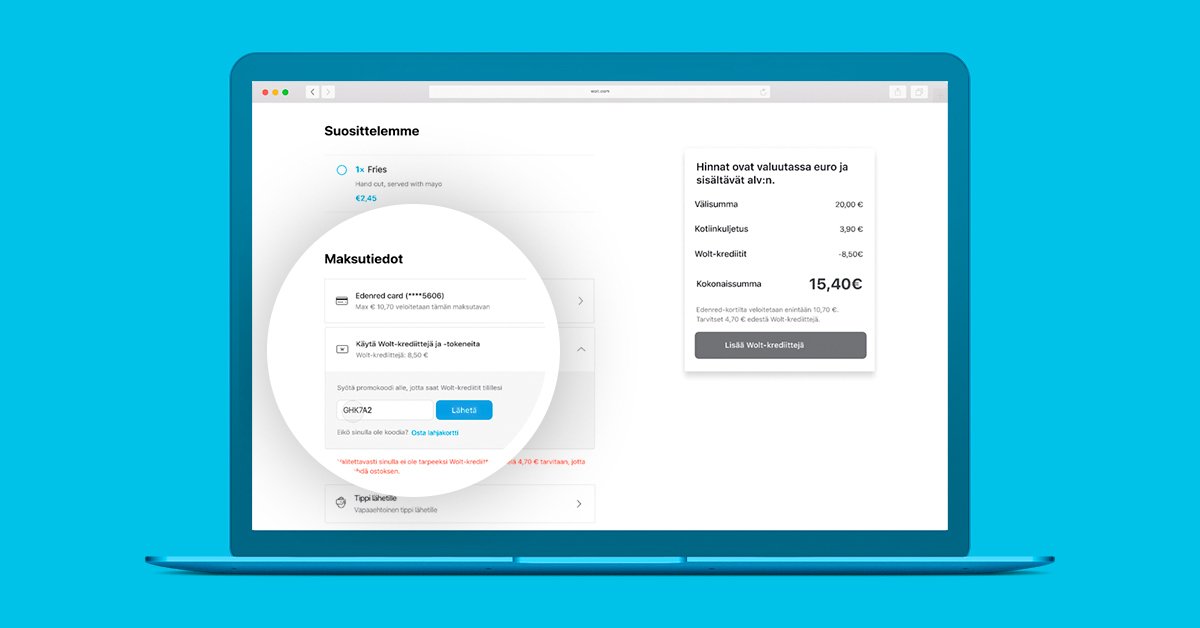 Place an order through wolt.com – Edenred doesn't work on the app yet
Log in to wolt.com on your browser and choose what you want to eat. When you're ready to place an order, choose your Edenred card as the payment method at checkout. This reduces the total price with 11,30 €, after which you can pay the remaining amount with credits. If at this point you notice that you don't have enough credits on your account, you can simply purchase more credits by clicking on the "Purchase gift card" link in the "Use Wolt credits and tokens" section.