Being a Wolt Courier Partner
What is the role of a Wolt courier partner?
Wolt's vision is to be able to deliver all of the products that you can buy in a mall straight to our customers' doorsteps quickly and easily!
This is not possible without a fleet of courier partners who can pick up the orders and deliver them safely.
As a Wolt courier partner, you are the face of the service and have the responsibility for the orders while you are delivering. The Partner App will guide you through, but you will meet a lot of shop owners, restaurant staff, fellow courier partners, and happy customers on your way!
Which types of products do courier partners deliver?
As a Wolt courier partner, you can deliver anything from food and groceries to flowers and pharmaceutical! Most of the orders you will deliver will be food from restaurants, but over time, more and more products will be introduced to the platform.
What are my responsibilities as a courier partner?
Your main task is to deliver all of the lovely food and products that our customers order straight to their doors!
This entails a responsibility for:
A phone
A vehicle (bike, car, moped) to deliver with
Keeping your bag clean for deliveries
What are the responsibilities of a Wolt Courier Partner? 
Your responsibilities are set out in the Courier Partner Service Agreement you have signed with Wolt. As an example, these include:
You are responsible for having required permits and licenses.
You are responsible for having sufficient insurance coverage.
You are responsible for keeping your delivery gear clean and conform to your local hygiene measures and food safety standards.
You are responsible for adhering to ALL traffic rules and other local legislation.
What do I need to do if I want to take a break from Wolt? 
You are free to take all the breaks that you want, as delivering with Wolt is also about flexibility and freedom. 
Who can I contact, if I need help or have questions related to being a courier partner?
The Wolt Support Team is just one click away in your Partner App and always ready to help you if you have any questions while delivering. They can also help answer any general questions you might have regarding your documents, your earnings, your Wolt insurance, or other aspects of your partnership. However, a good place to start is actually right here in this FAQ. 
How to contact support: Send them a message in the chat in your Partner app!
The Wolt Partner app
Pickups & Dropoffs
Pickup A pickup task is the task of a Courier Partner picking up food/orders from a given venue. The pickup task is shown as a 'pickup notification' in the Partner App. You accept a pickup task by pressing the [I am on it] button.
Pickup note A 'pickup note' contains all the information necessary for picking-up an order at the restaurant. You receive the pickup note in the Partner App when accepting a pickup task. The pickup note usually contains:
Notes from the restaurant: "Please wait outside until the order is marked ready."  
Checklist of the contents of your current order e.g: 2 burgers, 1 milkshake, 1 coca-cola zero.
The address for the given restaurant.
Dropoff A dropoff task is the task of a Courier Partner delivering food/orders from a given restaurant to a given customer location. 
Dropoff note A 'dropoff note' is the notification you receive within the Partner App when accepting a dropoff task. The dropoff note usually contains:
Notes from the customer: "My doorbell phone is out of order. Please call me when you get here."  
Notes regarding the contents of your current order e.g: 2 burgers, 1 milkshake, 1 coca-cola zero.
The delivery address of the customer.
Bundle & single task mode
Bundle mode Bundled Mode automatically assigns you tasks and may give you multiple orders (up to 3) to deliver simultaneously. Bundled Mode changes according to how busy it is and can vary from asking you to pick an order up and drop it off right after, to asking you to pick up several orders and delivering them in mixed order depending on the optimal route. You can schedule when you want to go offline in Bundled Mode. Bundled Mode is automatically the standard mode, and can be changed in ''Settings'' on your Partner App.
Single task mode Single task mode allows you to accept or reject every order you receive. This means a task will pop up on your screen, and if you accept it, you will go to the venue/restaurant and then directly to the customer. In Single Tasks Mode, you always have the possibility of going offline after completing a task, and when you are waiting for tasks. You can select Single Tasks Mode in ''Settings'' in the Partner App.
What's the difference? Single Tasks Mode means one at a time, and Bundled Mode means often many at a time, and both come with their pros and cons. Single Tasks Mode allows maximum flexibility in selecting orders to deliver, and a choice of exactly when to go offline. Bundled Mode maximizes earnings as you can deliver several orders at the same time, but is less flexible as tasks need to be rejected for you by Partner Support, and going offline needs to be scheduled (unless you don't have any active tasks). You can switch between them any time in ''Settings'' on your Partner App.
Why did my task disappear in the App?
When you receive a task, it means that you are currently the most optimal courier partner available for that specific task, at that specific moment in time. If you do not accept the task straight away, which is completely okay, you might experience that the task will disappear and another courier partner might have become more optimal for delivering that specific task.
Map & navigation mode
The map shows your current location, mode of transport, and your next task if you have one. A blue dot means it's a pick-up, and green dot means it's a drop-off.
The partner app has integrated navigation functions that can be used when on a task. By clicking on the navigation icon in the top right of the app, it will automatically insert the customer or venue's entered address and redirect you to that app. This means that navigation in the app connects automatically to your current task. 
You can change which navigation app you would like to use in settings, under ''Navigation app''. If your chosen navigation app has different modes of transport, you can change that in ''Navigation mode''. Please note that as cities change, and maps are updated, there may be minor errors and mistakes that you may have to consider if you can't find a specific address.
Problems with the app?
If you have any problems with the Partner App, Wolt Support will be there on the chat and help you out. This applies both when you are online and have urgent issues or at any time you need help while you are offline. Making sure the app is updated is also important, and if you wish to see more about it, see ''Tips and Tricks'' further down - you may find the answer you are looking for there. 
For small glitches or a frozen screen, we recommend you restart the app or your phone, if necessary.
Earnings & payment
How do I earn with Wolt?
You earn by delivering. You get paid per task (base task fee) and by distance (distance fee). Your earnings will vary based on how busy the Wolt platform is when you go online, which orders you deliver and how efficient you are.
What is base task fee?
Base task fee are earnings Courier Partners receive for completing delivery tasks. The spesific fee per task is stated in your contract.
What is a distance fee and how is it calculated?
Distance fees are earnings Courier Partners receive on top of the base task fee, based on the distance from the venue to the customer. Is is calculated in a straight line distance. Calculations and fees for distance fee is stated in your contract.. 
Every task is measured and paid by straight line distance from the venue's address to the customers. 
Why did we choose to do it like this?
We acknowledge that straight line measuring sometimes leads to a less attractive order since a bridge or blocked road makes the real distance significantly longer. There are however a couple of good reasons why straight line distance is ideal: Firstly, in the long run, it will not influence your earnings. We have tested how courier earnings would change if we used the real distance, and after 30 orders the remuneration is the same. Secondly, using the real distance would be a lot tougher for Wolt's optimizer. This would lead to either the app being slower at processing routes (resulting in wait times) or creating worse routes for both delivery modes. Using a straight line optimizer is fast and finds the most logical routes.
How can I see how much I've earned?
You can see how much you have earned in the Wolt Partner app. Simply head to the menu bar and click "Finances" to see an overview of your earnings. You can also click on "Stats" to see how many orders you delivered in a specific period of time.
You will receive invoices/payslips from Wolt for every payout every second week (the 10th and 25th of each month), where your earnings also will be stated.
Can I get tips as a Wolt courier partner?
Wolt customers can choose to leave tips when they place their order. Due to tax regulations, we can only allow the customers to tip before the delivery, which means that the tip is not given based on your personal service. You do not have to pay tax on tips in Norway.
When do I get paid?
As a Wolt courier partner, you get paid twice a month.
The payments will be made on the following dates:
Earnings made between the 1st-15th will be paid out no later than the 25th of the same month
Earnings made between the 16th-31st will be paid out no later than the 10th of the following month.
Freelancer/Contractor payout
As a freelancer you receive net earnings, meaning we have deducted taxes on your behalf.
We automatically retreive your tax card/excemption card when we do your payment.
undefinedundefined
As a contractor you receive gross income, meaning you are responsible for paying your own taxes and possible VAT. Please keep updated on important dates and deadlines here
What if I want to change my payment details?
If you want to change your payment details, please fill out this form.
Please note that we can only accept changes in payment details 10 days prior to payment. Payment dates are 10th and 25th each month.
F.ex: if you want to change your payment details for the payment 10th of July, this form needs to be submitted within the 31st of June.
Insurance & fees
Do I need my own insurance in order to deliver?
We strongly recommend that you have your own insurance aside from the accident insurance that Wolt provides you when delivering. If you are delivering by car or motorcycle, you are required by law to have liability insurance for your vehicle. This will cover you in case you end up in an accident while driving.
You can check out the terms of Wolt's insurance below here and decide which additional coverage, you might need. Insurance is provided by Collective.
What does Wolt's insurance cover for me?
While you are online and have signed up for Collective, you are covered by Wolt's accident- and third-party liability insurance. This means that you can apply for compensation if you experience injuries like dislocations and fractures from an accident that happened while online. The insurance also covers some medical expenses, hospital stays, serious injuries, and death.
You can read the full insurance terms and gain more information about how to contact our insurance company here.
What do I do if I'm in an accident? 
Make sure you and any other people involved are alright. 
Call the local emergency line, if there is a need for an ambulance or police.
The most important thing is the safety and well-being of you and anyone else involved. Once you are sure you and anyone else possibly involved is alright, contact support and they will help you figure out the best solution. 
How do I file a claim?
You can easily file a claim by registering on our insurance platform here and sharing your details with our insurance company. After your submission, an employee from the insurance company will reach out to you within a few days.
I got a parking ticket while delivering, will Wolt pay?
It is important that you follow the official traffic rules when delivering with Wolt, so if you receive any fines or parking tickets while delivering, it is your own responsibility to cover the costs. When delivering by bike, we recommend that you are extra careful not to check your phone while biking, or bike in areas that are restricted to people by foot only.
For cars and motorcycles, always follow the speed limits for your vehicle and remember to park legally during pick-ups or drop-offs even if you are just leaving your vehicle for a few minutes.
I damaged my vehicle while delivering, will Wolt pay?
Wolt does not cover any damages happening to your vehicle while delivering. We recommend that you ensure your bike or get a kasko (comprehensive/all-risk) insurance for your motor vehicle. If the damage is a result of an accident or collision with a third party, their insurance might cover the costs you have related to necessary repairs.
Check out the insurance terms here where you also find information about how to contact Collective Insurance support if in doubt!
Tips & tricks
What is peak hours?
Peak Hours is the time period of a given day, in which people in your city usually order the most food delivered. This means it is the time of the day when most Courier Partners are needed on the platform, as well as the best opportunity to maximize your earnings. 
Peak hours in Norway:
Lunch hour: 11:00 - 13:00
Dinner: 15:30 - 21:00
Weekends: All day!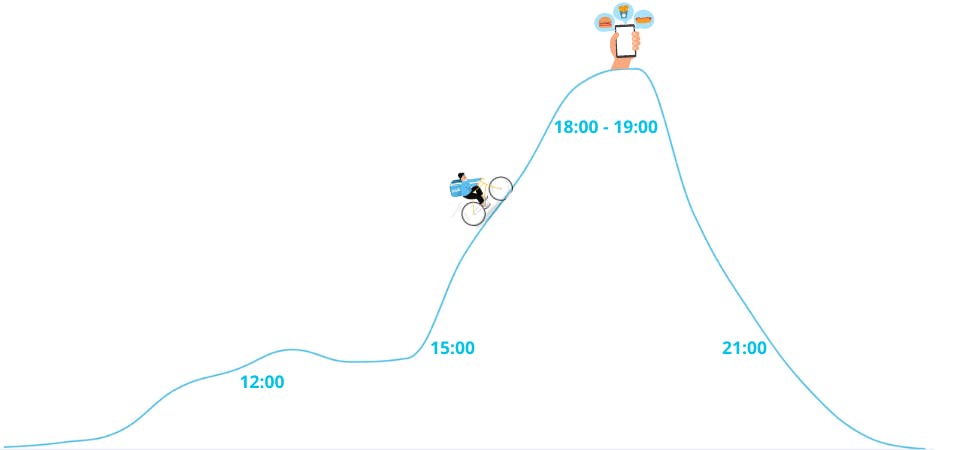 What are hotspots and why start and return close to them?
City hotspots are the locations with the biggest density of online venues in any given city. The more venues near you, the bigger the chance of receiving an order asap and maximizing your earnings.
If you want to maximize your earnings, it's often a good idea to swipe online at a city hotspot and return to the same hotspot after completing a task. This usually helps you get more deliveries.
When should I mark an order picked up?
Our humble recommendations: Simply marking the food picked up when it's inside the bag is by far the most efficient way of doing it. 
Why is this the best? Orders can always be removed from you and sent to another courier if an issue arises. Support will handle that for you. But orders can only be removed before you have marked the order picked up. This means that if you have marked an order picked up but you don't have it and the restaurant accidentally makes the wrong order or drops it, you can't be removed from the order and you'll have to wait for it to be fixed. In extreme cases, support can still help you out here but it's much more difficult for them.
When delivering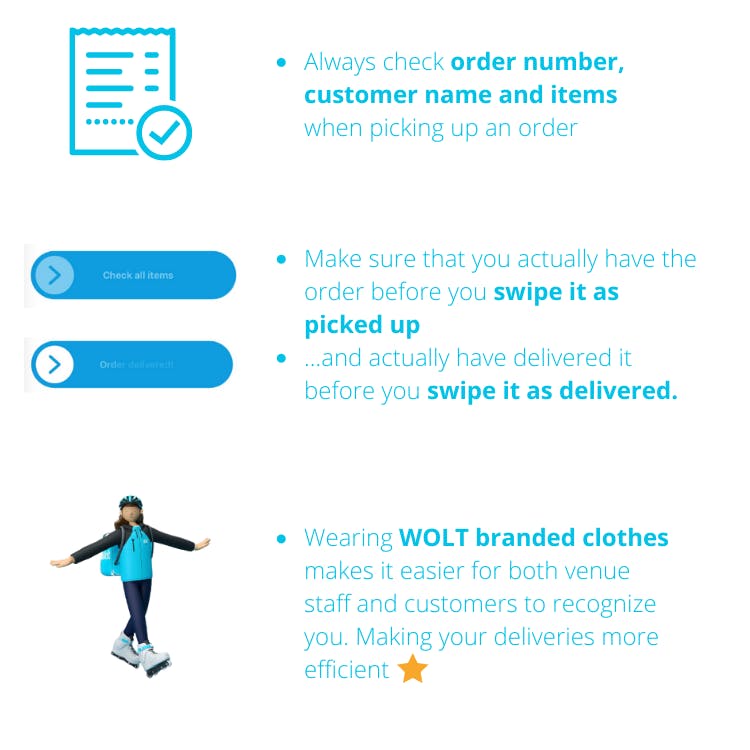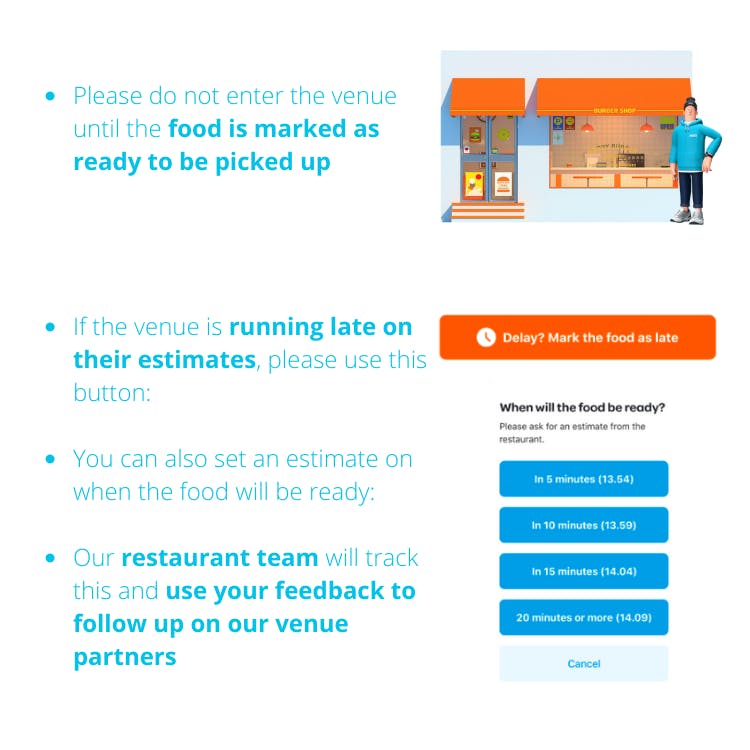 What should I do if I damage an order?
Mistakes happen and every now and then a tourist steps out in front of you or a car brakes a little hard and food is spilled. Support will always be there to help in situations like this. Remember to take a moment to clean your bag before you keep going.
How to make sure your GPS works, so you can swipe (Android)
Here's a few things that will make sure your app is running as smooth as possible:
Go to settings
Go to Apps
Press Apps
Search for Wolt
Choose Wolt Partner
Press Permissions
Press Location
In "Location access for this app" - press "Allow all the time"
Do you have
Wifi: OFF
Battery Saving: OFF
Location tracking: ON
ROAMING: OFF
Having the app open all the time also improves its overall functionality and restarting it can also fix some issues. If none of this helps, contact support and they'll help you out!
How to make sure your GPS works, so you can swipe (Apple)
Here are some things that you can check to get the app to work as smoothly as possible.
How to turn Location Services on or off for specific apps
Go to Settings > Privacy > Location Services.
Make sure that Location Services is on.
Scroll down to find the app.
Tap the app and select an option: Always is what you need for the Wolt Partner App
Do you have
Wifi: OFF
Battery Saving: OFF
Location tracking: ON
ROAMING: OFF
Having the app open all the time also improves its overall functionality and restarting it can also help. If it still doesn't work, contact support and they'll help you out!
The customer isn't opening the door, what should I do?
We recommend that you follow this process:
We know it can be really frustrating when a customer has ordered food but isn't there to collect it when you arrive. The first step is to check their drop-off note to see if they have any special instructions for you. The next step is to call the customer through the app and ask them to help you out so you can get inside and deliver. If they don't answer the call and a few minutes have passed, write support and they'll take over getting in touch with the customer and guide you through the process.
The restaurant is late, what should I do?
We know that restaurants can be late, mistakes can be made when marking orders ready, and much more. To improve and solve this issue as much as possible, we are in close contact with our restaurant partners and cooperate with them to optimize the accuracy of when orders are ready. Always make sure to check the venue note to see if there's a procedure to follow, and ask them when the order will be ready while following their guidelines. If needed, contact the support team and they can send you to a new task. Note that waiting times cannot be compensated.